Visitors are always welcome at Vineyard Cattle Company.  We take great pride in our cattle.  We have Black and Red Brangus cattle for sale. Give us a call to schedule a visit.
Dr. Vineyard receives the 2012 IBBA Pioneer of the Year Award: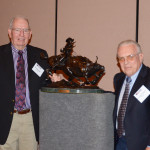 The Pioneer Award recognizes an International Brangus Breeders Association (IBBA) member, past or present, for his/her service, loyalty and contributions to the IBBA.
The 2012 IBBA Pioneer Award recipient is Dr. Robert S. Vineyard.
Few members in the history of the IBBA can match the tireless time, effort and dedication Dr. Vineyard has contributed to the progression of the Brangus Breed.
What is amazing is that after 40 years effectively working for the improvement of the IBBA, his passion, devotion and leadership continues.
The list of accomplishments is long as Dr. Vineyard has successfully mastered the production, marketing, technical and service aspects of the cattle business.
VCC was among the first to produce ET calves in 1977 and 1978.  VCC was the first in the breed to measure rib eye and fat thickness by ultrasound.  His Breeding Up to Brangus has allowed VCC to introduce productive new genetics.  He served on the IBBA committee that created and developed the Brangus breeds Expected Progeny Differences (EPDS).  VCC maintains detailed records and a database on all cattle to provide their customers with accurate and current information.
Many powerful and breed influencing animals have entered the IBBA through the breeding program of VCC.  These cattle still populate many pedigrees.
Among the most notable are Ms HY-I Justana 23/2 known as "Anna" and the lineage of her 8 daughters.  Also, there is Anna's son "Tiny", a two-time Sire of the Year.  Names such as Crackerjack, Impact, a three-time Sire of the Year, Dynasty, Bonus and Franchise are well known through-out the breed.  A dominant and competitive show string was fielded for a number of years.
For many years VCC annually marketed their cattle through two of the highest averaging production sales.  These "Family of Genetics" sales were well received and every catalogue contained meticulous detail concerning the performance, EPDs, pedigree and phenotype of the sale offering.  Doc has supported and worked with the youth of the IJBBA and has supplied numerous young breeders with heifers for their projects.
He served 2 terms as IBBA President, 19 years on the IBBA Board of Directors and assumed the responsibility of serving or chairing almost every IBBA committee.  He has also been on the Board of the TBBA and the Bluebonnet Brangus Breeders Association.
Doc was honored in 1989 as "Breeder of the Year".
Family is an area of Doc's life that is a high priority. He and Nancy have been married for 50 years.  They have 2 children.  Stirling and wife April live in Argyle along with their 2 children, Robert Stirling III and Lilly Faith.  Kelly and her husband Ron live in Haslett, along with their 3 daughters, Bailey, Berkley and Bristol.
In addition to ranching, Dr. Vineyard maintained a dental practice for 18 years.  He co-founded and served as Director of the School of Dental Hygiene at Wharton County Junior College.
Dr. Robert Vineyard represents three generations of his family's cattle business in Wharton and Matagorda Counties.  Through the years, many changes have been made in the VCC Breeding Program.  All of them have been based on factual data, experience and economic conditions of the beef industry.  His profound belief in the use of EPDs and DNA technology as selection tools for cattlemen has led him to hosting seminars, educating potential breeders to their availability and the role performance programs play in Herd Development.
The Brangus Breed is positioned as a leader in the cattle industry because of the foresight and leadership of individuals like Dr. Robert S. Vineyard